Nepalese Children's Education Fund
A Report from the Picnic to Zoo
Date: 21st of July, 2002
Prepared by: Smriti Karanjit
We assembled all the children and their parents at Kalimati by 11:30. All of us -- 7 volunteers, 7 children and 3 mothers -- got on a bus at Kalimati that goes directly to Jawalakhel for only rs.5. In about half an hour, we reached the central zoo at Jawalakhel, where we met another child and her father, making the group total 19. The children and their parents were very excited. After getting the tickets we entered the zoo. The children started running here and there; they were very happy. They even started talking to us, though they previously been very withdrawn. Each volunteer paired up with a child to keep tabs on the restless children. The children and their parents looked at the animals one-by-one, very excitedly. The children were all busy reading the names of the animals and instructions written on the walls.
| | |
| --- | --- |
| The children enjoy their first visit to the zoo. | Ujeli relaxes for a picture in front of the lake. |
All of them were free and open with us that day; they had never talked to us like that before. After seeing the animals, the children seemed to long to go boating. Seeing this, we decided to take them boating.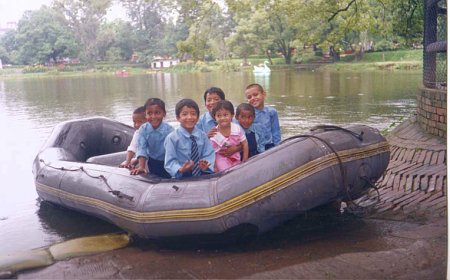 In addition to viewing the animals, the children took their first boat ride.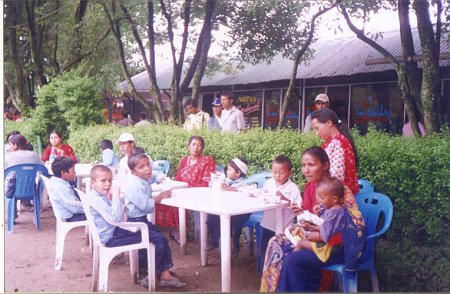 After a busy morning of boating and sight-seeing, the group gathered for lunch.

All of us, including the parents, went boating, which everyone enjoyed thoroughly. By 2:00 p.m. the children were looking very hungry, so we gathered for lunch. We gave everyone a lunch box and a glass of drink. After lunch, the children went to play at the children's park. There were many things to play at the park. We let them play for about an hour as the volunteers talked to their parents.

The students frolic on the zoo's playground.

They were thankful to us and praised us more than we deserved. We left zoo at about 3:15. Before we left, we gave each child a handful of sweets that we had brought. They were very happy with everything. We returned to Kalimati on the bus.

Personal feelings of the volunteers:

Smriti:
I was looking after Bijay Shrestha. He smiled a lot during the whole trip, and I had not seemed him smiling so openly before. He had previously seemed lonely and afraid, but during the picnic he was holding my hand and appeared to feel safe and secure with me. He was busy reading all those things written on the walls and animal cages. He was the one very interested in boating. This outing has really helped to build a good relationship between the children and their parents, as well as us. Everything that happened made me feel very glad and satisfied.

Nita Shrestha:
I was looking after Ujeli Bhujel. She was very happy and interested in picnic. She enjoyed the day very much. Today she was very friendly and socialized with the others. She also enjoyed boating.

Shailey Thapa:
I was looking after Anuradha Shrestha. She enjoyed the day. She spent a lot of time playing different games at zoo. She desperately wanted to ride the train, but unfortunately our budget did not allow for it. Everything else was absolutely wonderful.

Shreshna Basnet:
Santosh Bhujel was not at home so we could not make it to the picnic. Balram Dhungana Bijay and Sushila Shrestha's neighbor was there. He was with me. He was quiet and obedient. He enjoyed the boat ride and looking at the animals. He was keen and enthusiastic.

Bandana Sharma:
I was looking after Sushila Shrestha. She was very shy before, and although she harly talked to me before, in the outing I found a lot of changes in her. She seemed very happy. She expressed her happiness and talked a lot to me. She confided to me her desire to improve her reading skills.

Lachhindra Maharjan:
I was looking after Kumar Tamang. He was very restless during the outing. It was hard to control him because he was in his own world. I felt bad because I could not afford to let him play the games he wished to play. Kumar behaved differently at the zoo. He disobeyed his mother and me.

Pritush Maharjan:
Rajkumar felt happy to be at the zoo. He was especially interested in birds.

Conclusion:
The outing was an invaluable way to gain the trust of the children and their parents. This is an entry point from which the children will hopefully be a bit more open and expressive and the parents will understand that the volunteers are seriously concerned about their children's well-being and happiness. The trip also made clear that some students are really hyperactive and inattentive, which needs to be dealt with. The children were all brought in school dress as they had no good dress for the outing.




[Privacy Statement]
NCEF is a 501 (c) (3) charitable organization.
US Taxpayer ID: 51-0424140
© Copyright Nepalese Children's Education Fund 2004.