Nepalese Children's Education Fund

he Nepalese Children's Education Fund (NCEF) is a non-profit organization whose mission is to develop the potential of disadvantaged Nepalese children through education. NCEF identifies children unable to pursue education because of economic situation of their families. Students are provided with tuition, textbooks and supplies to enroll in school. Our dedicated network of volunteers in Nepal meet regularly with the children and their parents to monitor the progress of the student through school. We dedicate our resources to each child until they complete their high school education (grade 12).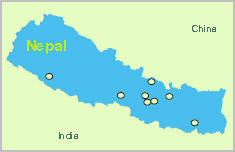 Established in 2002, NCEF has raised about US $150,000 and awarded more than 500 annual scholarships in Kathmandu, Nepalgunj, Patan, Sunsari-Inaruwa, Chitwan, Dolakha and Sindhupalchok. NCEF has identified dedicated local coordinators and volunteers to administer the scholarships while meeting its requirements of financial accountability and regular follow-ups with the children.
NCEF is a project run entirely by volunteers in both Nepal and the US. NCEF has no salaries, compensations, or office expenses.
NCEF does ...
give need based scholarships.
provide volunteer opportunities.
all of its administration online.
try to remain transparent.
visit the children and report regularly.
make all financial reports public.
NCEF does not ...
do any other community development activities.
pay any salaries or compensation.
have an office or office expenses.
disclose private information of donors, children or volunteers.
transfer money to Nepal for you if you promise to donate.
Nepalese Children's Education Fund, Inc.
PO Box 380061 Cambridge, MA 02238-0061 USA
Email: contact@nepalchildren.org

[Privacy Statement]
NCEF is a 501 (c) (3) charitable organization.
US Taxpayer ID: 51-0424140
© Copyright Nepalese Children's Education Fund 2012.